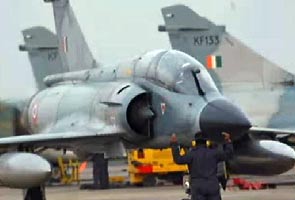 Sudhi Ranjan Sen.
It was meant to be an exercise to check the preparedness of the Indian Air Force to prevent a 9/11-like attack when the 13th President of India takes oath on Wednesday.
Instead, poor planning meant that on Saturday, thousands of passengers flying to or from Delhi faced huge inconvenience. Many flights were delayed, others were diverted to airports in other cities like Jaipur. At the time, Mr Mukherjee had not been declared President of India – votes were counted a day later.
The guest list for the swearing-in ceremony at Rashtrapati Bhavan includes top Indian political and military leadership, and some foreign dignitaries. The Indian Air Force was assigned to test its preparedness to intercept rogue air planes. The Delhi Integrated Air Defence Centre (DIADC), which coordinates the use of airspace with other agencies was also to be activated. Jaguar fighters from Ambala and a helicopter from Hindon were deployed for the exercise.
But the plans had two major operational flaws. The Notam, or notice to airmen which informs military and civil aviation officials about specially-imposed flying conditions, was issued only on Saturday morning at about 7.30 am. It declared that 50 nautical miles of air space over Delhi would be closed for two hours between 1 pm to 3 pm on Saturday. Only planes cruising above 20,000 feet could continue unhindered. Generally, Notams are issued at least two days in advance, so that flights can be planned well-ahead by airlines, and passengers can be informed of schedule changes.
The second, and perhaps, the more serious second goof-up happened between the Ministry of Defence and the Air Force. Defence Minister A K Antony was scheduled to return from Mumbai to the capital at 2 pm, after attending the commissioning ceremony of the INS Sahyadri – Indian Navy's Stealth frigate. His schedule was well publicised, but the Air Force did not take his return journey into account.
As the Air Force exercise was about to start, permission was sought by the Ministry of Defence to allow a special plane with Defence Minister A K Antony and Navy Chief Nirmal Verma on board to land at the international airport in Delhi. When the Air Force realised this, it appears to have cut short its drill. The Air Space over Delhi opened to normal traffic by 2 pm, according to records. Defence Minister A K Antony landed in Delhi about 2.10 pm.
Senior IAF officials, however, deny that poor planning meant they had to curtail their operation. "We completed the exercise by 1.45pm. We had, initially, asked for two hour period because we wanted to accommodate for sudden weather changes or other exigencies that may arise in such an exercise," the IAF offical told NDTV. That explanation may have some merit, but if the Defence Minister had not appeared literally on the horizon, would the air force have released air space an hour before it was meant to?
-via NDTV.com.